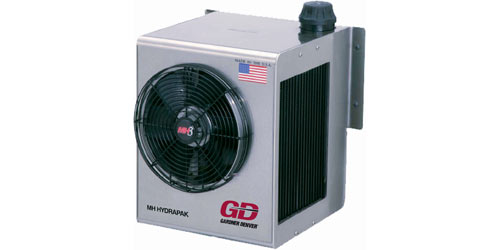 The Drum Hydrapak has set the standard for mobile hydraulic cooling systems. Manufactured with the latest in robot and laser technology, the Hydrapak is constructed of all 316 stainless steel for high performance in both hot and cold weather and has a long service life. The Hydrapak incorporates a low volume oil reservoir with a high performance radiator and hydraulic motor driven fan. The Hydrapak unit also includes built in hydraulic relief valve, and hydraulic oil filter offering a complete, compact installation.
Several Hydrapak models are available for your application with flows to 60 GPM and 5000 PSI.
The compact MH3 series Hydrapak is lightweight and highly trustworthy for flow requirements to 45 GPM.
The MH5 series is capable of flows to 60 GPM and an astounding 100 input HP capability.
Some of the applications where Hydrapaks are commonly used are: Trailer Mounted Pumps, Multiple Pump or Compressor Drives Off 1 power take off, Bulk Feed Vehicles, Service Vehicles, Pneumatic Blowers, LPG, CO2, & Cryogenic Pump Drive Systems.
Tankless Hydrapak models are also available for applications where large volumes of oil are already required such as cylinders and roll off applications.
For engineered customer solutions by your pneumatic equipment distributor in Alabama, Georgia, and Florida, contact Eagle Flow Solutions.
Providers